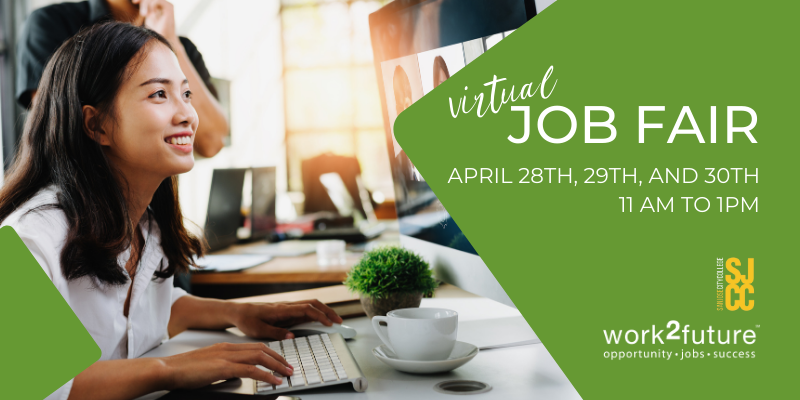 work2future+San Jose City College Job Fair
3-day virtual job fair event presented by San Jose City College and work2future.
Insider information on company culture, job openings, and the fastest way to get hired.
11:00 am to 1:00 pm
Free to participate
Open to SJCC students and the general public.
---
---
Virtual Job Fair Schedule:
April 28, 2021 [Business, Finance, and Technology companies]
– Accounting Principals
– Air Communities (Form. AIMCO)
– CVS Health
– Chase Bank
– Cintas Corporation
---
April 29, 2021 [Healthcare, Government, Public Service companies]
– Alameda County Probations Department
– CVS Health
– Falck USA, Inc.
– Familiar Surroundings Home Care
– Norcal Ambulance
– San Jose Conservation Corps + Charter School
– Santa Clara Valley Transportation Authority (VTA)
– Spread Your Wings
---
April 30, 2021 [Advanced Manufacturing, Construction, and Trades companies]
– Air Communities (Form. AIMCO)
– Amphenol. DC Electronics (ADCE)
– BrightView Landscape Services
– McNeal Enterprises, Inc.
– Quality Machining and Design Inc
– SlingShot Connections
– Utiliquest
– XL Construction
---
This event is a Zoom webinar which allows audio and other information sent during the session to be recorded. If the event is being recorded, you will be asked to consent to be recorded or given the option to leave the event. Please be aware when you join the webinar, your video is OFF and your audio will be MUTED.
The list of employers will be updated as they confirm.