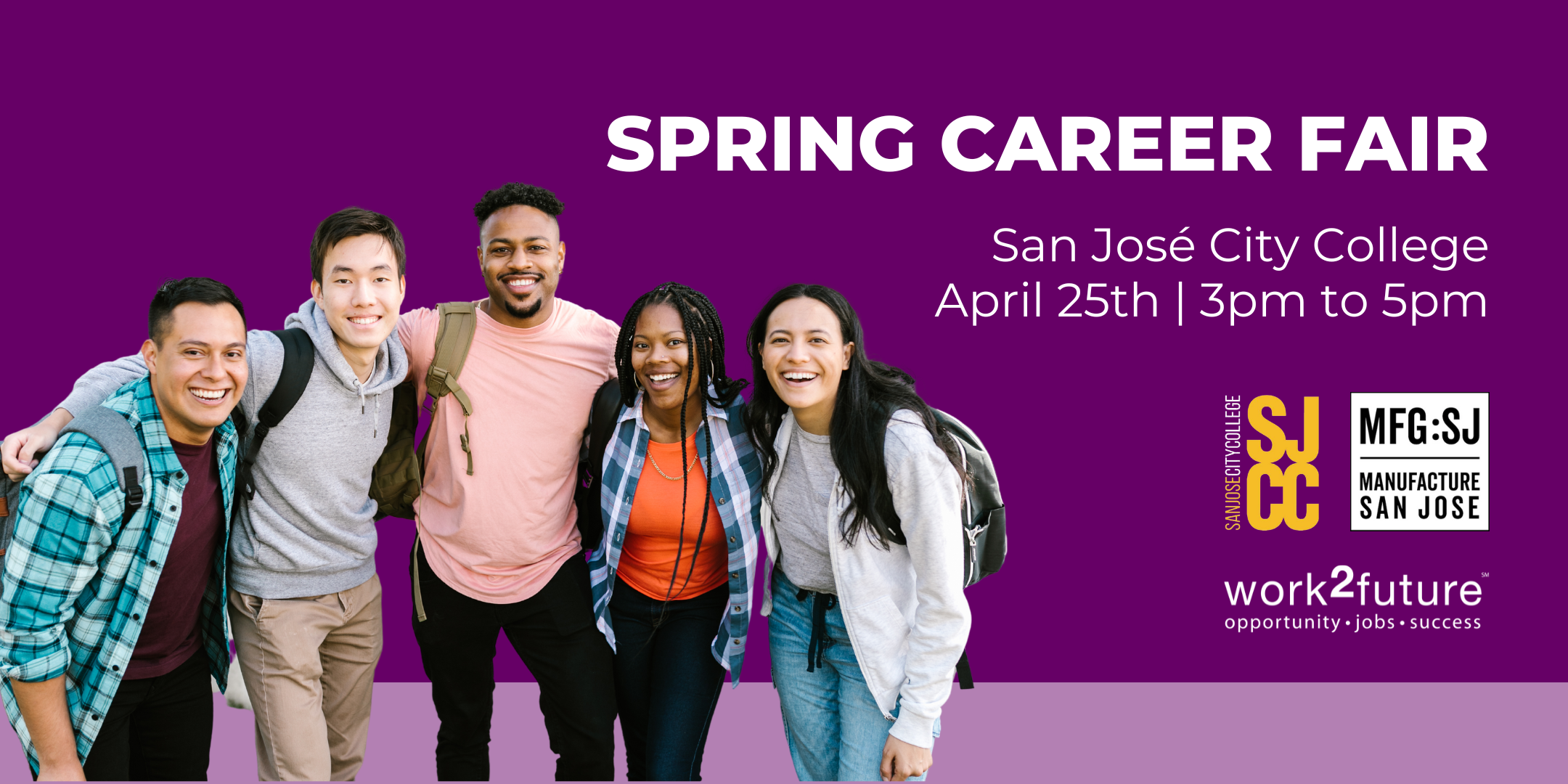 Spring Career Fair
Hosted by work2future, San José City College, and Manufacture : San José.
Tuesday, April 25, 2023
3 PM to 5 PM
San José City College | Main Gym
2100 Moorpark Avenue, San José
No cost to attend. Open to all job seekers. Free parking available on campus + free lunch!
BRING YOUR RESUME! Recruiters will be on site.
Participating Employers & Resource Providers:
This list is updated often with new employers and resource providers.
AACI
Amazon
Aramark at the SAP Center
Avantor Sciences
Bay Area Kids Dentist
Beacon Oral Specialists
BizLink Technology
Brightview Landscape and Tree Care Services
California Air National Guard
California's Great America
Campbell Union School District
Catholic Charities SCC
Chase Bank
Childcare Careers
ClickAway
Community Digital Channel NetWork
Comtech Satellite Network Technologies
Corovan
County of Santa Clara
EAH Housing
EDD-Workforce Services
Edges Electrical Group, LLC.
Elevo
Goodwill of Silicon Valley
Gorilla Circuits
Hope Services
Intermolecular
Jem Management (Wendy's)
Juma Ventures
Kaiser Permanente Medical Group
Kidango
Legarza Sports
Maxar Technologies
Mike & Niki's Honey Company
Montessori Academy of Campbell
Moss Adams
Nevarez Machining, Inc.
NorCal Ambulance
NPower
Olympus
Prometheus Real Estate Group
Rising Sun Center for Opportunity
RNDC's Gallo Division
San Jose Conservation Corps and Charter School
San Jose Fire Department
San Jose Job Corps
San Jose Police Department
San Jose Sharks
Santa Clara County Parks & Rec Commission
Santa Clara County Sheriff's Office
Santa Clara Valley Transportation Authority
Sheet Metal Workers' Local 104 and Bay Area Industry Training Fund
Shoe Palace
South Bay Consortium for Adult Education
Stars Therapy Services
Sutter Health
The Irvine Company
Think Together
UCSF Allied Health
United States Army National Guard
United States Postal Service
Veteran's Services Office of Santa Clara County
Working Partnerships USA
ZOLL Medical